Posts for: October, 2017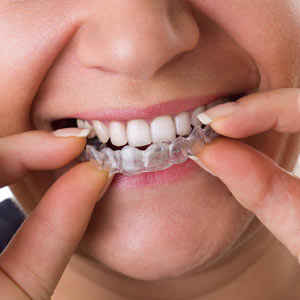 You've invested a lot of time and money in orthodontic treatment to improve your smile. If you're not careful, though, your teeth could actually move back to their old positions. The reason why is related to the same natural tooth-moving mechanism we use to straighten teeth in the first place.
Teeth are held in place by an elastic, fibrous tissue called the periodontal ligament lying between the teeth and the jawbone and attaching to both with tiny collagen fibers. The periodontal ligament allows for incremental tooth movement in response to pressure generated around the teeth, as when we chew (or while wearing braces).
Unfortunately, this process can work in reverse. Out of a kind of "muscle memory," the teeth can revert to the older positions once there's no more pressure from the removed braces. You could eventually be right back where you started.
To avoid this, we have to employ measures to hold or "retain" the teeth in their new positions for some time after the braces come off. That's why we have you wear a dental appliance called a retainer, which maintains tooth position to prevent a relapse. Depending on what's best for your situation, this could be a removable retainer or one that's fixed to the teeth.
Patients typically wear a retainer around the clock in the immediate period after braces, and then eventually taper off to just nighttime wear. Younger patients must wear one for several months until the new teeth positions become more secure and the chances of a rebound diminish. For older patients who've matured past the jaw development stage, though, wearing a retainer may be a permanent necessity to protect their smile.
Retainer wear can be an annoyance, but it's an absolute necessity. Think of it as insurance on your investment in a new, more attractive smile.
If you would like more information on improving your smile through orthodontics, please contact us or schedule an appointment for a consultation. You can also learn more about this topic by reading the Dear Doctor magazine article "The Importance of Orthodontic Retainers."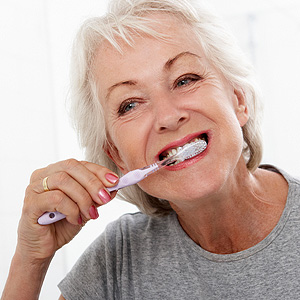 So, you've just acquired an attractive restoration with dental implants. You may be thinking at least with these teeth you won't have to worry about dental disease.
Think again. While the implants and their porcelain crowns are impervious to decay the surrounding gums and bone are still vulnerable to infection. In fact, you could be at risk for a specific type of periodontal (gum) disease called peri-implantitis (inflammation around the implant).
Bacterial plaque, the thin bio-film most responsible for gum disease, can build up on implant crowns just as it does on natural tooth surfaces. If it isn't removed with daily brushing and flossing and regular dental cleanings the bacteria can trigger an infection in the gums.
Besides weakening gum tissues, gum disease can also cause bone loss, of critical importance to dental implants. An implant depends on the bone they're inserted in to hold them in place. If the bone around an implant becomes infected it could begin to be lost or dissolve (resorb), which could lead to loss of the implant.
That's why it's critical to keep the natural tissue structures supporting your implants infection-free. Not only is daily hygiene a must, but your implants and any remaining natural teeth should undergo professional cleaning at least twice a year or more if your dentist recommends it.
Cleanings involving implants will also be a bit different from natural teeth. While the dental materials used in the crown and implant post are quite durable, regular cleaning instruments can scratch them. Although tiny, these scratches can become hiding places for bacteria and increase your risk of infection.
To avoid this, your hygienist will use instruments (known as scalers and curettes) usually made of plastics or resins rather than metal. The hygienist may still use metal instruments on your remaining natural teeth because their enamel can tolerate metal without becoming scratched creating a smoother surface.
While keeping implants clean can sometimes be a challenge, it's not impossible. Implants on average have a long-term success rate above 95%. With both you and your dentist caring and maintaining these state-of-the-art restorations, you may be able to enjoy them for decades.
If you would like more information on caring for dental implants, please contact us or schedule an appointment for a consultation. You can also learn more about this topic by reading the Dear Doctor magazine article "Dental Implant Maintenance: Implant Teeth must be Cleaned Differently."