Posts for tag: root canal treatment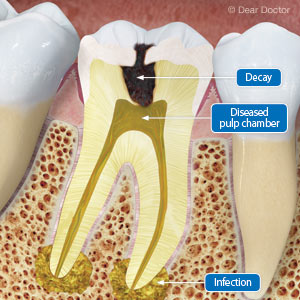 A root canal treatment is a common procedure performed by dentists and endodontists (specialists for inner tooth problems). If you're about to undergo this tooth-saving procedure, here's what you need to know.
The goal of a root canal treatment is to stop tooth decay within a tooth's interior and minimize any damage to the tooth and underlying bone. This is done by accessing the tooth's pulp and root canals (tiny passageways traveling through the tooth roots to the bone) by drilling into the biting surface of a back tooth or the "tongue" side of a front tooth.
First, though, we numb the tooth and surrounding area with local anesthesia so you won't feel any pain during the procedure.  We'll also place a small sheet of vinyl or rubber called a dental dam that isolates the affected tooth from other teeth to minimize the spread of infection.
After gaining access inside the tooth we use special instruments to remove all of the diseased tissue, often with the help of a dental microscope to view the interior of tiny root canals. Once the pulp and root canals have been cleared, we'll flush the empty spaces with an antibacterial solution.
After any required reshaping, we'll fill the pulp chamber and root canals with a special filling called gutta-percha. This rubberlike, biocompatible substance conforms easily to the shape of these inner tooth structures. The filling preserves the tooth from future infection, with the added protection of adhesive cement to seal it in.
Afterward, you may have a few days of soreness that's often manageable with mild pain relievers. You'll return for a follow-up visit and possibly a more permanent filling for the access hole. It's also likely you'll receive a permanent crown for the tooth to restore it and further protect it from future fracture.
Without this vital treatment, you could very well lose your tooth to the ravages of decay. The time and any minor discomfort you may experience are well worth the outcome.
If you would like more information on treating tooth decay, please contact us or schedule an appointment for a consultation. You can also learn more about this topic by reading the Dear Doctor magazine article "Root Canal Treatment: What You Need to Know."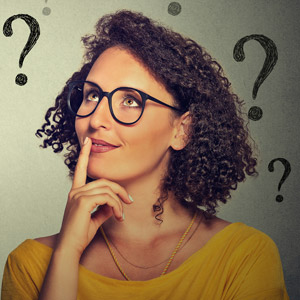 A root canal treatment is a commonly known but often misunderstood procedure. Contrary to popular belief, these treatments aren't painful — in fact, they often stop a toothache. More importantly, a "root canal" can give a tooth on the verge of loss another lease on life.
Still, if you've never experienced a root canal treatment before, you probably have questions. Here are the answers to a few of the most common.
Why do they call it a "root canal"? This is the popular shorthand term for a procedure that removes diseased tissue from a decay-infected pulp, the innermost part of a tooth and the actual root canals themselves. Root canals are the narrow, hollow channels that run from the tip of the root to the pulp and are also involved in the procedure.
Why do I need one? Once infected, the pulp's bundles of blood vessels, nerves and other tissues become diseased. This often results in a painful toothache that can also suddenly disappear once the nerves within the pulp die. But there's still a problem: If we don't clean out the diseased and dead pulp tissue, the infection could spread through the root canals to the bone and endanger the tooth's survival.
What happens during the procedure? After deadening the tooth and surrounding gums with local anesthesia, we enter the pulp through an access hole we create. Using special instruments we remove the diseased tissue and shape the root canals to seal them with a filling material called gutta percha. Sealing the access hole is then necessary to prevent re-infection. Later we'll cap the tooth with a porcelain crown to restore its appearance and add further protection against fracture or cracking of the tooth.
Who can perform a root canal treatment? In many cases a general dentist can perform the procedure. There are some complex situations, however, that require a root canal specialist with additional training, expertise and equipment to handle these more difficult cases. If your tooth is just such a case it's more than likely your general dentist will refer you to an endodontist to make sure you get the right kind of care to save it.
If you would like more information on root canal treatment, please contact us or schedule an appointment for a consultation. You can also learn more about this topic by reading the Dear Doctor magazine article "Root Canal Treatment: What You Need to Know."